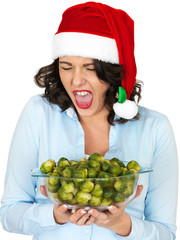 Okay , So first off I HATE BRUSSELS SPROUTS .
Well not all Brussels sprouts ,   if they are right out of the garden ,  after a good hard frost ,  they become sweet little bundles of deliciousness that only need to be warmed and drizzled with a little butter MMMMMM …   MMM!.
But having said that ,  all others are not to be eaten .  Not the ones in the net bags at the grocery .
Nor the FAST FRESH FROZEN ones shipped right to your table via the freezer case at your local food chain store.
No my dear friend  , it is  best to just stay away from these veggies no matter how healthy the are.
UNTIL      NOW      !!!!
My lovely bride said she wanted Brussel sprouts , so Brussel sprouts it had to be.
I had to find  a recipe that would work for both of us………………
I found this one. And it is actually pretty good .
I have to admit I had seconds ,  and yes ,  even unto thirds.
Bacon , onions  and balsamic vinegar combine to make this a wonderful side dish for any meal.
I think I could eat a bowl alone for lunch.
Okay , you say , Hey how can anything with Bacon be bad, and I have to agree I have not found a single one yet.
So lets get going !
I started with the bag – o –  sprouts from the green grocer
Trim off the ends and cut in half
1/2 lb. Bacon – diced
1 med onion – diced
1 tbsp. extra virgin olive oil
Balsamic glaze –  In a small pan heat up 1/4 cup balsamic vinegar.
add     2 Tbsp. honey.   Bring to a simmer and reduce to half.
.
.
.
This is what I use .   It's from Italy .   From Modena ,  And not too expensive .
for more info and much more expensive vinegar go here
.
.
In a Large Skillet heat the olive oil and add the bacon.
Cook for 5 min then add onion and cook until bacon starts to crisp up.
 Lay Brussels sprouts cut side down in the skillet.  Make sure they are FACE DOWN ON THE PAN
.
The Paupered Chef
Put a lid on the pan and reduce the heat to medium cook for about 5 min . They will fry and steam.
You want then fork tender.  Firm but not soft,
Add some salt and a few grinds of pepper.
Drizzle the Balsamic glaze over the top and stir in
Serve hot .
Eat and Enjoy !
.
.
PS : It must be close to  Christmas because I got wild and crazy  !
I  had to run out and buy this $ 24 wooden spoon.
ARE YOU NUTS ?????
AAH Maybe ? Most of you know I bought this porcelain fry pan
 and I don't want to use metal tools on it because it will scratch.
The Teflon tools are crappy and the wooded spatulas are too thick so..
When my new food guru
J. Kenji López-Alt