Chanukah (Hanukkah) starts on the Hebrew calendar date of 25 Kislev, and lasts for eight days.
2015:   December 6-14
To all my Jewish friends ,    and for the rest of us "gentiles "     we will enjoy one of the most traditional foods of this celebration.
Okay , So … These are LATKES –  ˈlätkə/    —   small Potato pancakes fried in oil,
Not to be confused with   LATKA
OF THE    The Sunshine Taxi Company ,  on the TV show TAXI
LATKA  GRAVAS is a lovable garage mechanic. He comes from an undetermined East European nation and speaks a language with gibberish sounding phrases like "yabba Ibby dibby dabba." Latka reports to cab dispatcher Louie DePalma who always gives him a hard time.
Oh yeah , you remember ………………………
But that's not what we are working on here ,  Bubbelah,
The holiday's roots date back to 168 BC, when the Syrian-Greek King Antiochus captured Israel, plundering and defiling the holiest site of the Jewish people, the Temple in Jerusalem. On the outskirts of Jerusalem, guerrilla warriors led by the priest Mattathias and his five sons vowed never to submit. They called themselves the Maccabees — derived from an acrostic of the Hebrew "Mi Kamocha B'Elim Adonai" (Who among the mighty is like you, God?) — and indeed, they were victorious, liberating Jerusalem three years later.
Once the battle was over, the Maccabees rid the temple of idols and lighted the golden menorah with a little purified olive oil they found, apparently enough to burn for just one day. But then, according to tradition, a miracle happened: The oil lasted for eight days — exactly the time it took to press fresh oil. It is to commemorate the Miracle of the Oil that Jews all over the world eat foods fried in oil on Hanukkah.
Although many Americans associate potato pancakes with Hanukkah, they have more broad origins. They originated in the eastern European countries of Germany Austria, Russia and Poland as a peasant  food .   Potatoes were cheap, plentiful and easy to store, making them a staple and necessitating inventive potato recipes.    Still, it was the European Jews who gave potato pancakes their now-famous Yiddish name–latkes–and made them as a holiday food.
Makes about 4 dozen latkes

Active Time

1 hour 20 minutes

Total Time

1 hour 20 minutes
Ingredients
4 pounds unpeeled russet potatoes (about 5 large potatoes)
1 pound yellow onions (about 2 medium onions)
1/4 cup matzo meal
2 teaspoons kosher salt, plus more to taste
1/2 teaspoon freshly ground black pepper
2 large eggs, lightly beaten
1/4 – 1/2 cup (or more) vegetable oil
1/4 cup (or more) schmaltz ( that's rendered chicken fat; 

OPTIONAL :

 this you can make yourself or you can get some at you local Jewish Deli ( yes there is one in Naperville for those who are close , OPTIONAL – especially if you cant get any

)

Apple sauce, for serving
Sour cream, for serving
Special Equipment:

food processor with grating blade or box grater, 2 large wire cooling racks, 2 large rimmed baking sheets
Preparation
Preheat oven to 250′.
Set racks in upper and lower thirds of oven.
Place cooling racks in the rimmed baking sheets and place in the oven.
Use a box grater.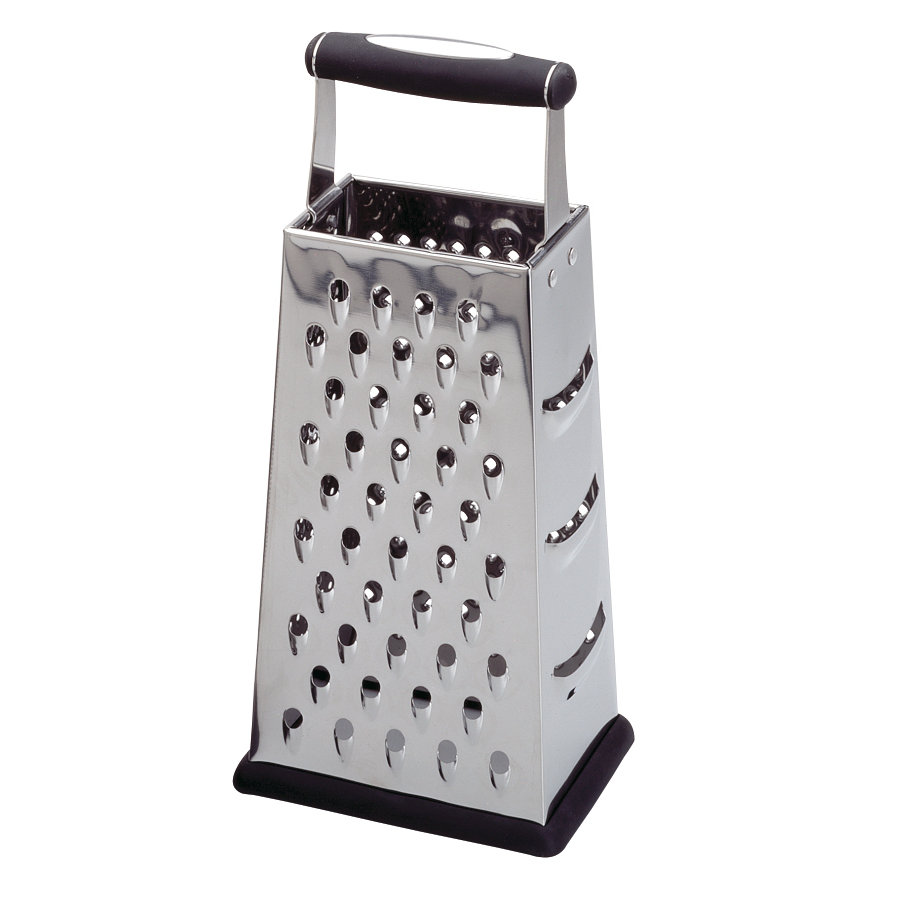 You should have one of these , it was good enough for your Gramma , it's still good for you.
You're going to be using it for a lot of stuff
Grate the potatoes and then the onion. You can use a food processor if you have one  – Do the potatoes separate from the onions.
. Working in batches, place the potatoes and onions in a clean dishtowel and thoroughly wring out the excess liquid over the sink, then transfer     to a big bowl .
The more liquid you remove, the crispier your latkes will be, so take your time and use several dish towels if necessary. Reserve the potato-onion mixture.
In another large bowl, whisk together the matzo meal, salt, and pepper. Add the eggs and whisk to combine. Add the potato-onion mixture and mix well.
In a large skillet over medium heat, melt equal parts schmaltz and oil (or oil only if omitting the schmaltz) until a scant 1/4-inch depth of fat is reached.
Drop 2 tablespoons of latke mixture into the hot fat, spacing them 2 inches apart.
Flatten latkes slightly using a spatula and cook, turning once, until crisp, golden brown, and cooked through, 3 to 4 minutes per side.
Transfer latkes to wire racks and season with salt; return to the oven to keep warm;.
As you remove latkes from the pan, replace them with fresh spoonfuls of potato mixture to maintain oil temperature.
Add additional schmaltz and/or oil around the edge of the pan as needed to maintain a scant 1/4-inch depth of fat.
Keep latkes warm in oven and serve hot
Serve with applesauce, crème fraîche, smoked salmon, salmon roe and dill.
Not traditional ,  but I found this and I think it also goes well with the latke.
Creamy Horseradish Sauce
8 ounces plain Greek yogurt
2 tablespoons prepared horseradish
2 tablespoons lemon juice
1 teaspoon sugar
½ teaspoon salt
Instructions
 Mix together the Creamy Horseradish Sauce ingredients: Greek yogurt, horseradish, lemon juice, sugar and salt.
Refrigerate until you are ready to serve the latkes.
Serve each pancake with a dollop of Creamy Horseradish Sauce and garnish with minced chives if you wish.
Eat and Enjoy !     
    OY VEY !