Hyphenation:       göz‧le‧me
Göz means eye in Turkish — and because black eye-like spots appear on the gözleme during baking, that's where it gets its name from.
Also Gozleme refers to small packets , which is what these treats resemble .
Okay , So I got this recipe from  Ozlem Warren ,   Who has a Turkish food page.
Turks have been making these stuffed flat breads for over a thousand years , they are a much loved Turkish street food and a special part of Turkish breakfast.
So, that's what I made them for ,  breakfast ,  this morning.
They very easy to put together and alittle something different.
I liked them ,  but some folks ,  who do not share my sense of adventure and/or my tastes in Mediterranean cuisine did not particularly like it or want me   to make it again.
I on the other hand have some leftover Gozleme  for a quick warm up in the microwave at work with my morning coffee. Yum  Yum
3 cups flour
1 pkg instant dried yeast
pinch of salt
3 tbsp. extra virgin olive oil
2 tbsp. plain yoghurt
1 1/5 cup water
FILLING:
3 med potato cooked and mashed
big pinch red pepper
5 Oz feta cheese crumbled
1/2 cup chopped parsley ( a big handful )
2 tbsp. olive oil
1 tsp salt 1
1 tsp. fresh ground pepper
Mix 5 oz water salt and yeast , let sit until bubbles start to form on top
Put flour in a large bowl or your mix-master
Add yeast mixture olive oil yoghurt and 1/2 cup water
Mix to get a soft dough. You might have to add alittle more flour to get it not to be sticky.     Add 1 TBSP at a time.
Knead thoroughly .Make 8 pieces and roll each into a small ball.
Place on a flour dusted cookie sheet and let rise for 30 min,
Now mix mashed potatoes , cheese , parsley , red pepper ,  olive oil salt and pepper to taste.
Lightly flour counter top and roll each dough ball into a 12 in ch circle.spread2 1.2 tbsp. filling into the center. Fold two sides to meet in the middle. Fold top down and bottom up to cover filling.
Repeat with the rest of the dough.
In a non stick fry pan   —  Brush bottom of "PACKET " with olive oil and place oiled side down in pan . Do not crowd.
When bottom is golden brown , brush top side with a little olive oil and flip over. Fry until golden brown.
Place on a cookie sheet in a 300 oven to keep warm until you have cooked them all.
Cut in half and serve
Eat and Enjoy !
PS:     a   little honey might be good with these.
Also you can experiment with the fillings , the next one I make are going to have cheddar cheese with bacon bits.
Also a spinach and feta cheese with dill.
PRODUCT REPORT:
I know I have talked to you about using only extra virgin olive oil and my new favorite
Terra Creta   
from Greece .
Well , I'm in the store and I need to buy some extra virgin olive oil in the smallest amount possible for a trip I am going on and I stumbled across this little item
Pampas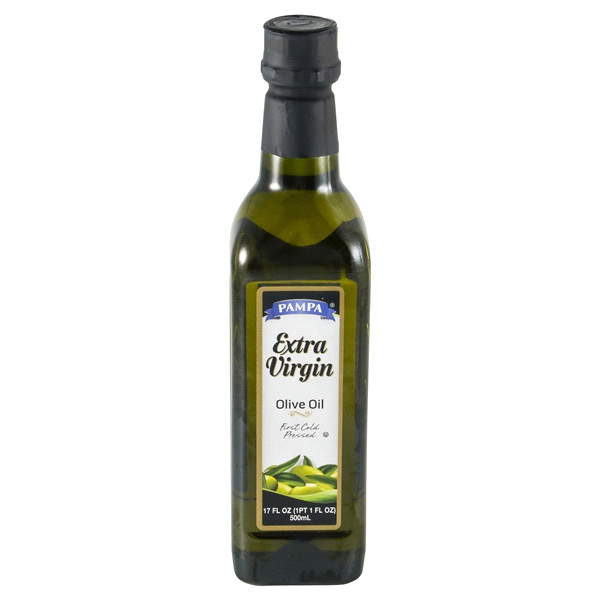 from Spain  , by way of my local neighborhood Meijer store.
It's actually pretty good , cheap ( only $2 .87 )  and the Web tells me it's even at you local dollar store.
Surprises come all the time , so there !