Okay so   , there's a new vegetable at the greengrocer.        It looks like a white carrot ( has it  been grown near a leaking nuclear facility ?  … No…,  )
and its not a parsnip,   a   turnip ?        nope  .
It's called a DAIKON
That is the Japanese word for it . Its real popular in  east Asia , in China it is  lobak,   Joseonmu in Korea and  Labanos in the Philippines ,  and  in India they call it Mooli
Funny thing is,   it was brought over from the Mediterranean in 500 B.C. to China for cultivation and is now grown in Texas and California.
Anyway  its a real find for all you vegans
Daikon radish helps digestion and relieves constipation, dissolves gall stones, helps respiratory problems; it is an anti-congestive, is a mild diuretic and reduces inflammation. It also is anti-carcinogenic It is beneficial for the liver, as it regulates the flow of bile. It  is high in vitamin C and B complex, which is why it is considered good for the skin. The water content of radish is also good for maintaining the skin's moisture. –
It can be sliced and eaten raw, fried,  stewed, dried.  pickled, you can eat the tops , you can bake it, oh there's about a zillion thing you can do with it.
Here is a fun one to get you started
I just bought one of these at Bedbathandbeyond       It was about  $10      so I thought what the heck.
I have used this on squash and it turned out pretty good.
Makes vegetable   "NOODLES "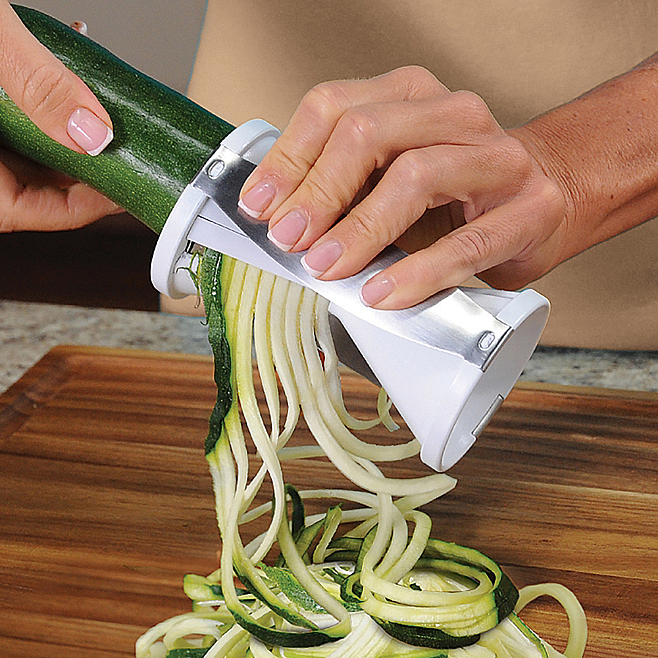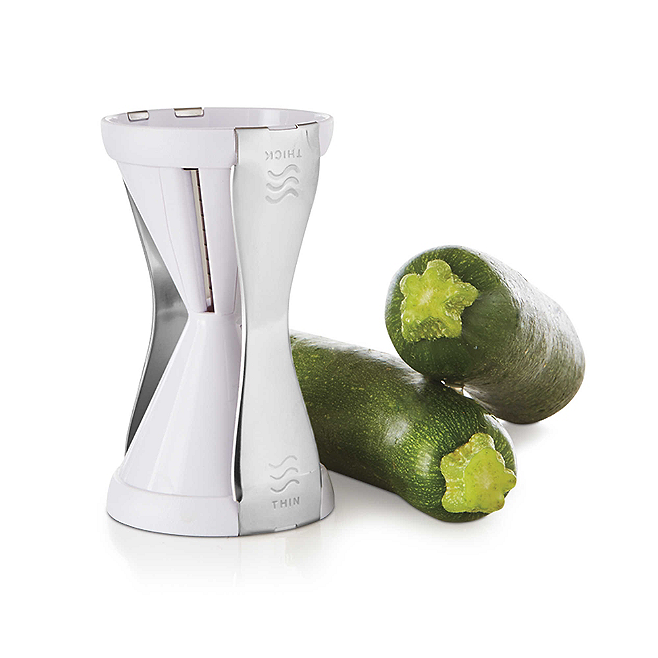 SO here is an easy soup to try out the new vegetable and the new toy
SESAME – GINGER DAIKON NOODLE SOUP
3 EGGS
2  BUNCHES BABBY BOK CHOY
1  MED DIAKON
1  TBSP SESAME OIL
2   TSP GRATED GINGER
4  CHOPPED GREEN ONIONS
4  OZ SHIITAKE MUSHROOMS  ( IF NOT USE WHAT YOU CAN GET ) – sliced thin
4  OZ SNOW PEAS
4  CUP CHICKEN STOCK
1    TBSP SOY  SAUCE
1  TSP MIRIN ( GUESS YOU COULD USE 1 TSP SUGAR OR HONEY )
JUICE FROM 1 LIME
SMALL HAND FULL CILANTRO
Put 3 eggs in a pan , cover with water and a pinch of salt.
Bring to a boil , turn off heat and let sit for 15 min
Rinse in cold water , then peel and slice
While eggs are cooking
Peel and spiralize the daikon
Chop ends off bok choy and then chop into 1 " pieces
Heat oil in a large skillet add ginger , half the green onions , cook for 1 min.
Add bok choy  , mushrooms , snow peas , salt and pepper
Cook for 3 min then add chicken stock.
bring to a boil add Daikon noodles , soy sauce mirin lime juice
Lower heat to med and cook for 2 min. until Daikon  is  "EL DENTE "
Stir in cilantro and garnish with green onions.
Eat and Enjoy !