No they are not made with Mushrooms ,   but they're really good. Sorry Elizabeth for not getting this out for Christmas but you can still make them.
4 tbsp butter
1 cup sugar
2 lr egg
1/4 cup sour cream
3/4 cup honey
4 cup flour
1 1/2 tsp baking soda
1 tsp cinnamon
1/4 tsp fresh ground nutmeg
1/2 tsp ginger
1/2 tsp lemon zest
Cream butter and sugar. Add eggs one at a time, beating well.
Stir in sour cream and honey
Sift in dry ingredients
Add lemon zest
Stir flour into honey mix to form a soft dough
Wrap in wax paper and chill for 1 hour.
Heat oven to 375′
lightly grease foil lined cookie sheet (foil is our friend)
To form each mushroom cap , take about 1 1/2 tbsp of dough and roll into a ball, press fingertip into ball, place indented side down on cookie sheet
To shape stem roll 1 1/2 tbsp bwt palms , slightly tapering one end, place on cookie sheet
Bake mushrooms on middle rack 10 to 12 min or until slightly firm
Transfer to wire rack to cool
Make an icing of 1/2 cup powdered sugar a enough fresh lemon juice to make a smooth icing
Take a paring knife and cut out alittle more of the indent in the cap
dip small end of "Stem" in icing then insert into"CAP"
Place cap down with stem in air to dry.
Make a whole bunch and place them in a basket .It will look just like a gnome picked them.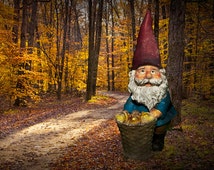 ( this is my poor attempt at being creative and decorative at the same time)
okay Martha Stewart hasn't anything to worry about……YET
Eat and enjoy!